Back
Mt. Helix Homeowner Goes Heavy on the Bass with Sunfire
PETALUMA, CALIFORNIA, June 1, 2016 – When it comes to home automation systems, the entertainment features are often the highlight to many homeowners and their families. That's why, when building a new residence on Mt. Helix in Southern California, one homeowner turned to Zack Paradise, founder of Paradise InfoTech, for his audio and control expertise. Paradise had previously designed and installed systems in the homeowner's two vacation homes, so when he said, "big audio", Paradise knew that Sunfire subwoofers would offer a boost to an already robust SpeakerCraft sound system.
"The homeowner wanted outstanding audio in each of the rooms, including the bedrooms. Being confined to watching movies and listening to music in the theater and family room wasn't an option," Paradise explained. "So, we set up a speaker demo for him to hear various audio options, and he really gravitated towards the SpeakerCraft AIM 272 model. And, when he stated that he wanted to fill out the low end without seeing any floor standing woofers, we knew that Sunfire HRS-IW8 in-wall subwoofers would be perfect for the job."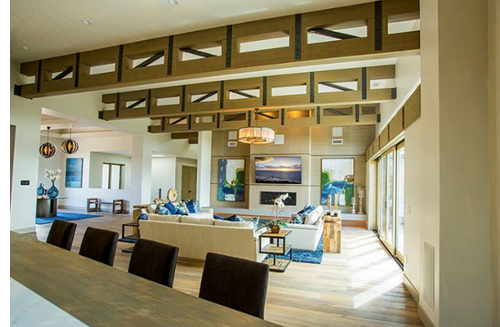 What started as a few subwoofers in the home's main areas and bedrooms turned into Sunfire subs to supplement almost every area of the SpeakerCraft sound system. In total, 12 Sunfire HRS-IW8 subwoofers were installed with 56 SpeakerCraft AIM272 in-ceiling speakers to create 20 zones of audio. All of these zones are enhanced by the Sunfire in-wall subs. In the game room area, there are five AIM272s in the family room; an additional two over the bar area; and two more over the pool table. On the back patio, there are eight AIM 272s in the ceiling; two on the master patio; and two on the living room patio.
"The owner really wanted to have full sound everywhere throughout the house, instead of just in living room and family room, since that would have to be played loud to be heard throughout the home," Paradise continued. "He also wanted to have the exact same sound everywhere; that's why we went with the AIM272s and Sunfire HRS-IW8s across the board, instead of mixing a matching. It's a really big house, and he wanted it to sound good everywhere."
To operate the robust sound system, Paradise connected everything through two ELAN gSC10 system controllers and an ELAN gMV1616 Ultramatrix switcher. "This was the first time we had installed the Ultramatrix," Paradise explained, "and it really gave us a lot more options."
The system offers 15 zones of video, including an Atmos theater where four additional SpeakerCraft AIM 272s were installed for the height channel being driven by a Marantz AV7702 Preamp/Processor. For the video components, Paradise installed a 120-inch Dragonfly acoustically transparent screen and an Epson LS10000 Laser projector.
"With the ELAN Ultramatrix switcher, the homeowner and his kids have their TVs Apps, like Netflix, directly on the screen," Paradise added. "We then piped it back through the distributed audio system, so it plays through the awesome speakers in the ceiling and in the walls throughout the home; you don't have to be in the theater to watch a great sounding movie."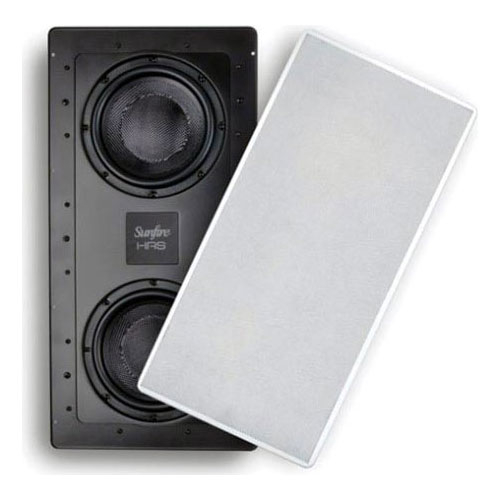 Outside of entertainment, Paradise installed 100 Pulseworx lighting loads and multiple cameras inside the residence and throughout the property. For convenience, when someone arrives at the home's front gate, the bell rings throughout the home's superior audio system, alerting the homeowner of the visitor. The owner can see and speak to the guest through ELAN Intercom, then unlock the gate if he would like to grant access to the property. Additionally, since the homeowner has ELAN installed in his other two vacation properties, he can view, monitor and control each home through one App on his iPhone, iPad or in-wall touchpanels.
Although turning a 12,000 square foot residence into a booming smart home is no easy task, Paradise and his team had smooth sailing throughout the project. "Being involved in the beginning makes everything flow much smoother," Paradise added. "With technology integration, we work with almost everybody, including the electricians, plumbers, framers, drywallers, roofers, HVAC, you name it! Getting a consistent plan laid out from the beginning and using top shelf hardware allowed us to complete the project with minimal hurdles to overcome."
About Sunfire
Sunfire® is a brand of Core Brands, combining unconventional thinking with precision engineering to create innovative home theater products delivering audiophile performance, including the smallest and most powerful subwoofers anywhere.
About Core Brands
Headquartered in Petaluma, California, Core Brands combines the product and marketing strengths of iconic and award-winning control, audio, power management and video distribution brands including ELAN®, SpeakerCraft®, Gefen®, Niles®, Panamax®, Proficient®, Furman®, Sunfire®, BlueBolt® and Xantech® to deliver a portfolio of connected home solutions to its channel partners and end users. For further information, visit www.corebrands.com.
Back